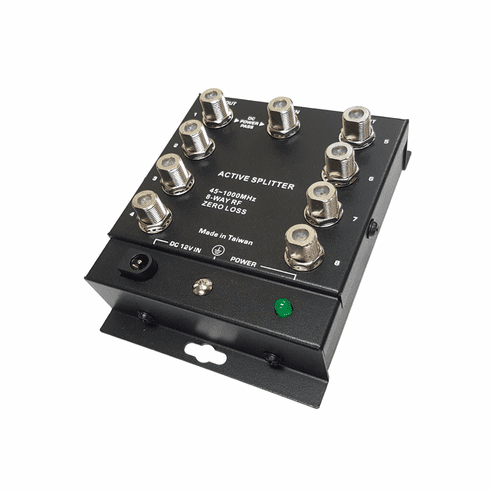 Premium 8-Way CATV RF Active Splitter With DC Power
Product Description
Premium 8-Way CATV RF Active Splitter With DC Power Pass
This CATV RF splitter is a premium active type 1Ghz RF signal splitter for private cable TV, antenna, analog/digital broadcast TV or MATV employing multiple modulators and other RF coax equipment.
It can distribute TV signal to 8 locations or 8 TVs. Each RF splitted output will retain the same level with no loss.
It is an active type RF signal splitter with DC 12V power supply, Ideal for CATV, surveillance CCTV, antenna TV coaxial operations.
True Lossless 8-Port Splitter
This splitter can provide 8 amplified output ports with zero loss through the internal gain amp.
Active Type RF Splitter
A passive non-powered type cable TV splitter will degrade the original RF signal even if the other output ports are not used.
This active type splitter includes a DC 12V power adapter for its internal amplifier so each one of the 8 RF outputs carries will retain the same signal level as the original RF input.
Wide Frequency Range Support
This unit supports a broad frequency range from 45 to 1000MHz. Most of the RF TV signals such as cable TV or antenna TV signals can be handled by this unit.
DC Power Pass
The 1st RF output port of this splitter supports DC power pass function so it can pass the DC power voltages/currents to power a RF device connected over the coax cable.
High Isolation
This CATV combiner provides high Port-To-Port isolation between RF TV signals so each output can be transmitted in stable quality with no noise or interference incurred.
Professional high-end 1 in 8 out digital/analog RF cable TV signal splitter and distribution amp.
Designed to divide/duplicate single RF input into 8 identical RF outputs with zero loss.
Distribute TV signal to 8 locations or 8 TVs and each RF splitted output will retain the same level with no loss.
Ideal for CATV, surveillance CCTV, aerial TV and MATV coaxial operations.
Supports broadband frequency range of 45 to 1000MHz.
The 1st RF output port of this splitter supports

DC power

pass function so it can pass the DC power voltages/currents to drive a RF device connected over the coax cable.
Low-noise filter with high port-to-port Isolation.
75-ohm impedance for all outputs provides the best possible signal.
RFI shielding for minimized egress/ingress interference.
Die cast housing for absolute minimal losses.
Grounding terminal available
RF Input: 75 ohm, Coax F-Type Female x 1
RF Outputs: 75 ohm, Coax F-Type Female x 8
DC Power Pass: VDC, one port only
Frequency Range: 45~1000MHz
Input Power: 75 dBuV
Insertion Loss: typical 1dB
Frequency Response: typical 2 dB
Isolation out-to-out: typical 20 dB
Return Loss-Input: 12~14dB, typical 13 dB
Return Loss-Output: 10~12dB, typical 11 dB
Noise Figure: typical 5 dB
Power Supply: AC input 100-240V with DC output 12V / 1A