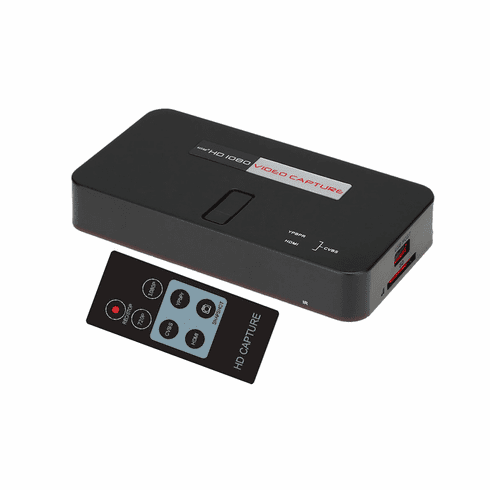 All-In-1 HD SD Video Recorder With HDMI Component Video RCA AV Inputs
Product Description
All-In-1 HD SD Video Recorder With HDMI Component Video RCA AV Inputs
This stand alone HD SD digital video recorder allows user to record their favorite video game play, TV shows, computer video, surveillance cam or other HD or standard video content into digital MP4 files.
The recorded HD files will be saved into an external USB drive or SD card of user choice up to 2 TB maximum in either FAT/FAT32 or NTFS format but not exFAT format.
1080p or 720p recording quality is selectable when the video input resolution is 1080p. Otherwise the recording quality will follow the original video input resolution if the input is equal or less than 720p.
Users can monitor what is being recorded through its HD output of this video recorder on a HDTV or monitor in real time with no lags.
Stand Alone HD Video Recorder
This HD video recorder supports multiple HD/SD video/audio inputs/output including:
1 HD input
1 component YPbPr video input
1 composite RCA video audio input
1 Mic input for recording with live commentary
1 HD output + AUX audio output
1080p HD Input Support
Users can use this HD DVR for recording HDMI or DVI output from computer, PS4, CCTV DVR or other HD devices into digital files for education, training, tutorial, presentation or entertainment purpose.
[Note]: This device will not allow recording of HD content with HDCP encrypted from commercial sources such as Blu-ray player, HD cable box, etc. Users may use component video output, if available, from such HD source for HD video recording.
1080p or 720p HDMI or DVI recording quality is selectable when the video input quality is 1080p.
Otherwise the recording quality will follow the original video input resolution if the input is equal or less than 720p.
Premium H.264 MP4 Hardware Encoder
This HD recorder is built with top quality H.264 HD hardware encoder.
Any video device can be captured into H.264 MPEG-4 format, which has only 1/3 of MPEG-2 DVD file size and retaining same crisp clear images and sounds.
Component YPbPr And Composite RCA Video Recording
This DVR can also record component YPbPr video and composite RCA video output from game console, DVD/VCR player, surveillance camera, camcorder, etc.
The video recording quality can be 1080p or 720p depending on the component video output from the source device.
Dual Operation Modes
This HD DVR can be used as stand alone HD recorder with no computer hookup required or plug into PC USB port with driver setup as an USB video capture device for PC running Windows OS.
Microphone Input
This HD DVR also provides users with microphone input for optional use. Users can add live commentary into recording through its mic input.
Live Video Game Recorder
Users can play and record games full screen at the same time, preserving smooth game play - especially for fast-moving FPS and sports games.
Any video game console with component YPbPr video output can be recorded through this DVR recorder and save the recording into external USB storage device for playback.
IR Remote Control
This multi-function HD recorder provides IR remote, which allows users to select video input source, recording/stop, video recording quality, and snapshot function.
Stand alone HD video recorder with H.264/ hardware encoder built in.
Real-time HD video capture using H.264/MP4 AAC hardware codec so less file size and less storage drive space needed.
Recording in sharp and clear MPEG4 format and stored into a USB drive or SD memory card of user's choice.
Can be plugged into PC USB port with driver setup as an USB video capture device for PC Windows OS.
Supports multiple HD/SD video/audio inputs:

1 HD input or DVI via using optional adapter
1 component YPbPr/YUV video input
1 composite RCA video input + stereo L/R audio input
1 microphone input for recording with live commentary

Supports all HDMI inputs at 1080p, 1080i, 720p, 576p and 480p.
Supports all computer DVI HDMI inputs from 640x480 to 1920x12000 pixels.
Supports all component YPbPr/YUV video inputs at 1080p, 1080i, 720p, 576p/576i and 480p/480i.
Supports HDMI output/pass-through so users can view the HD videos while recording performed simultaneously.
1080p and 720p recording quality.
Supports mic input for recording with live commentary.
Recording Speed at 140MB per minute or 8.4GB per hour.
Easy operation by IR remote.
Supports recording bit-rate at 4M, 10M or 16Mbps maximum.
Supports all USB hard drive or USB flash drive sizes up to 2 TB maximum in NTFS or FAT/FAT32 format (exFAT not supported)
Video/Audio Inputs:

1 HDMI input
1 component YPbPr/YUV video input and 1 composite RCA AV input via input adapter cable (included)
1 mic 1 input

Video/Audio Output:

HDMI output x 1
3.5mm audio output x 1

HD/SD Video Input Resolution Support:

HD input: 480p, 576p, 720p 50/60Hz, 1080i, 1080p 24/25/30/50/60Hz
Computer RGB input: from 640x480 to 1920x12000 pixels
Analog video input: 480i, 576i , 720x480, 720x576 pixels

Video Recording Quality: selectable at 720p/1080p if video input is 1080p or the recording quality will follow the original video input if the input resolution equal or less than 720p.
Video Codec: H.264 encoder hardware
Video/Audio Record Format: MP4 + AAC stereo mode
Recording Bit-Rate Support: 4M, 10M, 16Mbps
Recording Speed: 140MB per minute or 8.4GB per hour
USB Interface: USB 2.0 host for plug-in of USB flash drive or external USB hard drive up to 2 TB
SD Card Support: all
Recording Audio Format: ADPCM, MPEG Audio, AAC-LC
Power Supply: AC 110V-240V input with 5V 2A DC output
Digital video recorder
Component YPbPr + RCA A/V input adapter cable
IR remote
USB power cord and DC wall charger
User manual