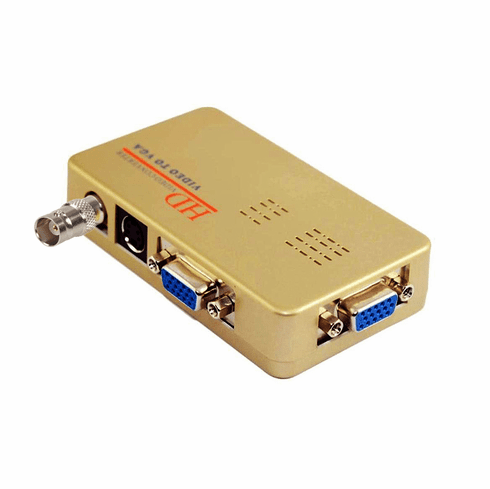 Composite BNC S-Video To VGA 1920x1200 Scaler + PIP Support
Product Description
Composite BNC RCA S-Video To VGA 1920x1200 Scaler With PIP Support
This analog video to VGA converter allows users to watch standard videos at high resolution on a LCD monitor, projector and all other LCD/TFT flat panel displays with VGA inputs.
This converter accepts composite BNC RCA video, S-Video and VGA inputs plugged in at the same time with selectable VGA output resolutions for sharp and crystal clear images.
There areselectable comprehensive VGA output pixel resolutions, ranging from 800x600 to 1920x1200 pixels.
This video scaler allows users to use a LCD monitor or projector for watching DVD video or CCTV surveillance camera video on top of computer screen at the same time, typically known as picture-in-picture (PIP).
Real Time Sharp Image Output
This vide to VGA scaler is a premium video line doubler solution by up converting analog video into progressive scan VGA format with vivid color on the screen.
The video signal conversion is done automatically in real time so there will be no timing issue or frame lags on its output video.
Multiple Video Inputs
This composite video to VGA converter offers 3 video inputs and a video input switch button is available on the converter for toggling through composite BNC/RCA video input, S-video input and VGA loop-through with ease.
Scalable VGA Output Resolutions
This converter will up-convert the analog video to various VGA resolution at user's selection. The supported VGA output picture resolutions include:
800x600 at 60/75Hz
1024x768 at 60/75Hz
1280x768 or 1280x1024 at 60Hz
1440x1050 or 1440x900 at 60Hz
1600x1200 at 60Hz
1680x1050 at 60Hz
1920x1080 or 1920x1200 at 60Hz
Real-Time Video Over VGA Display
This unit supports VGA pass-through for hookup with VGA output from computer or DVR. This allows users to use a regular LCD monitor or projector to display DVD movie, TV show or CCTV surveillance camera video on top of computer screen as picture-in-picture (PIP).
So users can enjoy using computer for internet browsing and other tasks while viewing the video in PIP window on the same screen so never miss a show or a move.
The available PIP control functions includes:
PIP Input Selection: Select the desired input video source from BNC RCA or S-Video to be displayed on the video window over the VGA monitor screen.
PIP Window Size: Users can re-size the PIP video window screen at 1/16, 1/9, 1/4 and up to full screen for display through the push button.
PIP Window Location: The PIP video window can be moved around the computer screen among 5 preset locations, upper left corner, upper right corner, center, lower left corner and lower right corner. The PIP window position adjustment is done through the push button on the front panel.
3D Motion Adaptive De-interlacing
With the motion adaptive de-interlacing technology, this unit easily converts the interlaced TV video signals into progressive ones (scanned every line in sequential order), resulting in much less flickering.
Manual Color Adjustment
The built-in video processor provides manual adjustments on all color elements for the picture output quality so users can always get the optimal performance.
A color adjustment menu button located on the side of the converter allows users to perform manual adjustment on brightness, color, hue and saturation level as needed.
Advanced analog video to VGA up-converter with supreme high VGA/RGBHV output up to 1920x1200 pixels.
Excellent video to VGA converter for converting interlaced video into progressive VGA type for great video clarity and sharpness.
Supports 1 composite BNC RCA video input, 1 S-Video input and 1 VGA pass-through.
Selectable 10-level VGA RGBHV output resolutions with maximum output up to 1920 x 1200 and 1920 x 1080 pixels.
Supports Picture-In-Picture function for watching video over the computer VGA screen.
PIP TV video sub-window can be resized from 1/16, 1/9, 1/4 screen or full screen display.
PIP window screen location can be re-positioned among 5 preset locations, upper left corner, upper right corner, center, lower left corner and lower right corner.
Easy input source selection via push button with real time progressive scan VGA output.
Easy manual selection for desired VGA output resolution for display.
Supports all CCTV surveillance cameras and DVR system for real time monitoring.
Premium motion adaptive de-interlacer built in for minimizing jagged edges noticed on big screen.
Provides crisp and clear images with true and brilliant color definition.
Adjustable controls of video color elements for brightness, contrast, hue, saturation, color temperature and picture modes.
Supports all NTSC and PAL systems with automatic video mode detection.
Supports 110V to 240V power for worldwide power use.
Video Inputs:

Composite BNC/RCA connector for input 1
S-Video connector for input 2
VGA connector for VGA Pass-Through

Video Output: VGA D-sub 15-pin connector for output
VGA Output Resolutions:

800x600 at 60/75Hz
1024x768 at 60/75Hz
1280x768 at 60Hz
1280x1024 at 60/75Hz
1440x1050 at 60Hz
1440x900 at 60Hz
1600x1200 at 60Hz
1680x1050 at 60Hz
1920x1080 at 60Hz
1920x1200 at 60Hz

Push Button Operation:

Video input button for selecting video input from composite BNC RCA, S-Video or VGA
Menu button for Brightness, Color, Saturation, Hue level control
Mode selection button for selecting picture modes between Normal mode, Soft mode, User mode and Bright mode
PIP button for configuring PIP size, location or VGA output resolution

Power Supply: 100V - 240V 50/60 Hz with DC 5V 1A output
Analog BNC/RCA video to VGA scaler unit
DC 5V power adapter
User manual